Crowns for Texas City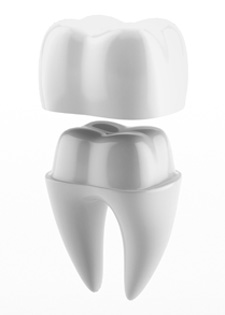 A crown will replace the enamel portion of your tooth when it's been damaged and can't hold a filling, or has been cracked through trauma.
What to Expect
When you come into our Texas City office, we'll prepare the crown by taking an impression of the tooth to be crowned.
This is sent to the lab, and we'll fit you with a temporary crown the same day that looks just like your regular tooth.
Three weeks later, we'll receive your customized crown and replace your temporary one with the new version.
A Permanent Solution at The Wright Dentist
A crown is made of porcelain or zirconium and will last your lifetime if you treat it like a normal tooth by cleaning it regularly.
We'll discuss all of the alternatives with you and decide whether there is a more suitable option, such as inlays, onlays, or large fillings.
A crown is usually partially covered by insurance, cutting down on your costs. Call our team at The Wright Dentist to talk to us about whether a crown is a suitable option for you.
---
Texas City Crowns | The Wright Dentist
Providing high quality dental care to Texas City.