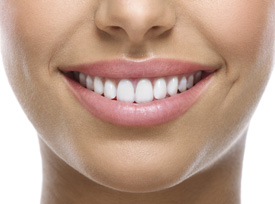 Cosmetic Dentistry
Your smile is the first thing that most people notice about you.  How's yours?
One of our favorite parts of dentistry is restoring our patient's smiles.
Regardless of the issue, the road to a beautiful smile begins here.
Improve the Appearance of your Smile
Could your smile be brighter?  Say goodbye to expensive and messy at home kits and let the professionals at our Texas City office whiten your smile with ZOOM Whitening.
Wish you'd had braces when you were a child?  All is not lost!  Invisible braces discreetly correct crooked teeth.
Tired of seeing crooked, stained or chipped teeth in the mirror?  Porcelain Veneers can cover a variety of dental issues and rectify your smile!
Dental Restoration
A Crown or "cap" that fits over your existing tooth is commonly used after root canal therapy to strengthen a tooth or with an implant to replace a missing tooth.
A dental implant is used to replace a missing tooth. The implant consists of a titanium screw that attaches itself to the jawbone and a crown that is secured to the post of the implant.
A dental bridge is made up of two crowns on either side of the missing tooth connected to an artificial tooth, called a pontic, in the middle.
Have a gap between your teeth or a crack/chip?  Fill it in painlessly and effortlessly with dental bonding.
Ready to get started? Call The Wright Dentist today!
---
Texas City Cosmetic Dentistry | The Wright Dentist
Providing high quality dental care to Texas City.